Train the Trainer
25.02.2021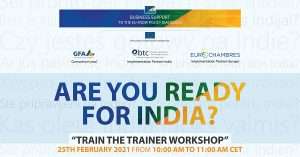 The Business Support to the EU-India Policy Dialogues project produced an "India Readiness Kit", to help EU SMEs considering to enter India, to plan and make an informed decision and gauge their preparedness in advance. This tool kit was launched during the EU-India Summit on 15th July 2020.
Five modules on Business, Finance, People, Product and IPR, introducing different aspects of market entry are accompanied by an online quiz tailored to help EU SMEs check their level of readiness regarding the market and point them towards further resources to improve their understanding of less well-known business areas.
At the  "Train the Trainer" virtual workshop on Thursday, 25th February 2021 from 10:00 am to 11:00 am CET, where you would be introduced to the opportunities in India, how to access the India Readiness Kit and prepare you for any technical questions your companies would have on setting up in India, thereby making you an expert on India.